Robotics Club
Robotics Club
Robot Maker Club members create all kinds of projects, including, but not limited to, robots.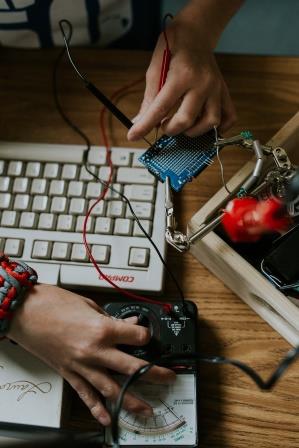 In the club students learn different aspects of robot creation including how to design a 3D model of a robot component for print, learn a programming language, print the parts, etc. The club has access to a 3D Solidoodle printer so that students can design and print off their own robotic pieces, allowing them to truly build whatever they can imagine.
The club, comprised of approximately 15 students to date, is structured around a badge system. As many of the students are already involved in other extra-curricular activities, the badge system allows them to work on a project as they have time or from home. Students earn badges as they complete different aspects of their projects, including designing a 3D model of a robot component for printing, learn a programming language, printing a part, etc.
Summer Robotics Camp 2019
This year we are just running one camp, July 29th – August 2nd. We will allow up to
30 campers this summer. Camp runs 8:30am to 4:30pm each day, and there is a supervised lunch break from 12:30 to 1:00 each day.
Please click here to view the Robotics Camp Brochure with registration form for summer 2019.