Upcoming Post Secondary Spotlight Events
_________________________________________________________

Faculty Events

Do you have students interested in Arts, Nursing, or Business? Check out our upcoming info sessions:

Important Deadlines:
August 15th - The final application deadline for most programs

Note: The priority deadline is the recommended deadline to ensure best course selection and access to other university services such as scholarships, housing, and parking. This does not include competitive entry programs such as Nursing.

Questions? Contact the Student Awards and Financial Aid team any time or visit our website for more details.
_________________________________________________________

Millar College of the Bible is a Christ focused Bible school with campuses in Pambrun SK, Sunnybrae BC, and now a new campus opening in Winnipeg, MB. Their vision is to develop passionate, relevant servants of Jesus Christ who are shaped by the entire Scriptures. For more info about Millar please go to their website at https://www.millarcollege.ca/

Also, please note that Millar College of the Bible is partnering with Regina Christian School to offer academic credit for the Christian Ethics 30 high school class. RCS graduates will be able to transfer two credits towards any one of Miller's undergraduate programs at either their Pambrun or Sunnybrae campus.
For more information please contact Millar's director of admissions, Kelvin Thiessen (admissions@millarcollege.ca)
_________________________________________________________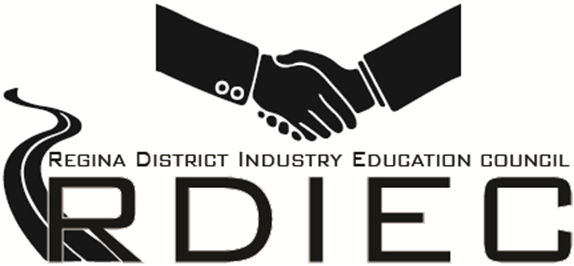 Preparing Youth for Quality Careers
Career Spotlights
Upcoming Events:
May 2021
Monday, May 31 - City of Regina Urban Planning & Development – 12:15pm
For more information, please visit our website - www.rdiec.ca
RDIEC Career Spotlights via YouTube!


Please click on the link below:
https://www.youtube.com/channel/UC5r6ybJhZqxuXZLgwNVCU8Q/playlists
This YouTube channel has many interesting career spotlights - too many to list. Please check out the link below to see possible career paths that you might be interested in investigating. Some of these videos have info on preparing resumes and cover letters as well. http://www.rdiec.ca/

One area of interest is the Trades series of videos. The SYA Presentation is very interesting and if your student is planning to work in the trades sector this coming summer please note that they will have the opportunity to earn high school credits - see below:

Summer Apprenticeship Program (SAP) - if you are aware of any students in your life currently working or planning to work in the trades sector, please let them know of the opportunity to earn high school Apprenticeship credits. If they are interested in earning these credits, please contact Doug Sthamann (306) 530-0185 or email douglas.sthamann@rdiec.ca for more information. Please contact him before starting in a trades related job to obtain proper supervision over the work term.
_________________________________________________________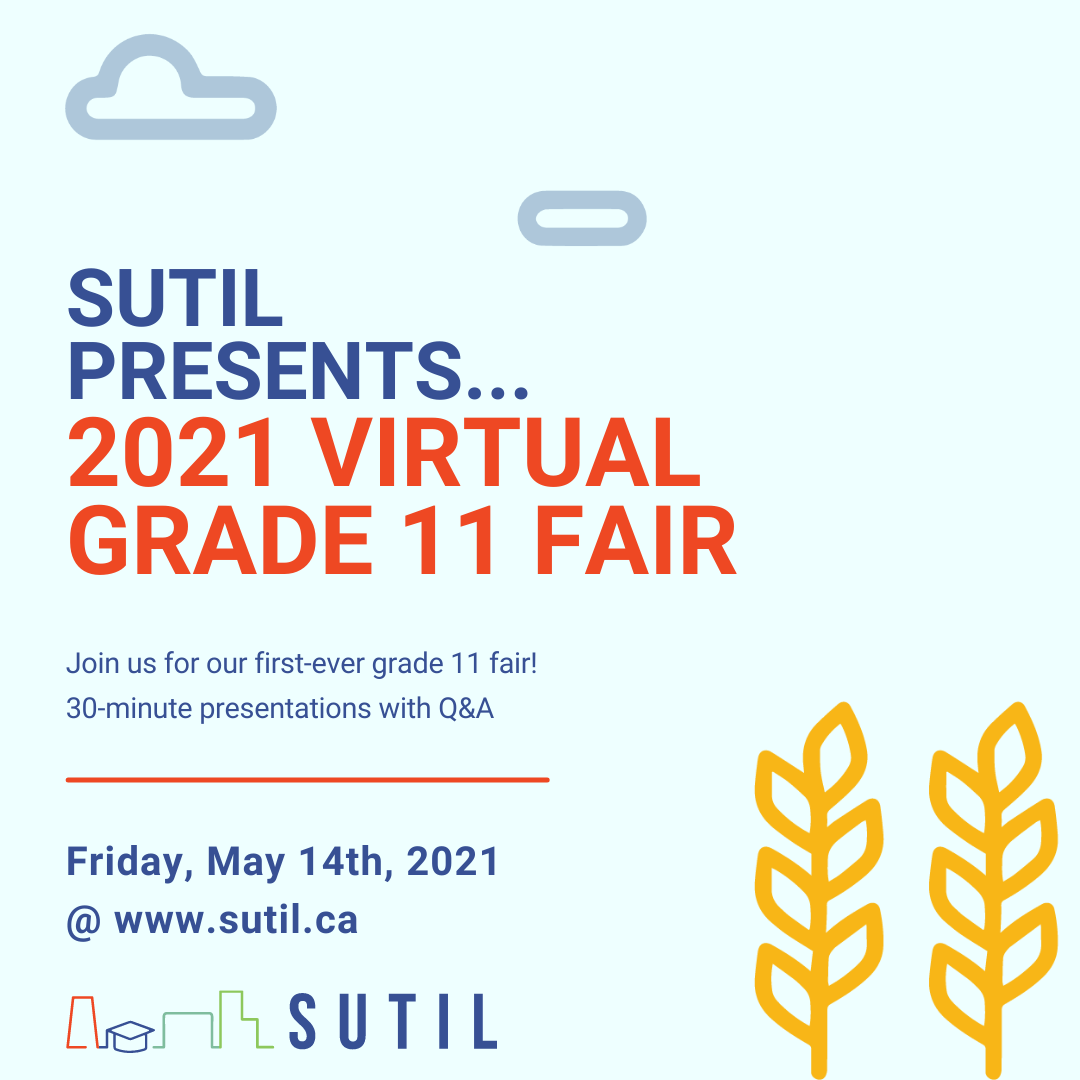 SUTIL (Sask Universities & Technical Institute Liaison) is exited to announce an upcoming event Grade 11 Post-Secondary Education Virtual Career Fair on Friday, May 14, 2021!
Date: May 14, 2021
Time: 9:00 AM - 3:30 PM

Format: The fair will be hosted virtually through our sutil.ca platform. Students will have access to short presentations, which will be scheduled throughout the entire day in a rotation of concurrent sessions. Here is an example of the presentation rotation schedule, which will rotate for the entire day until 3:30 PM:

This fair will allow students to have access to over 30 post-secondary institutions through a rotation of short presentations available all day long. The presentations will run for 30 minutes total, with time for questions at the end. We are hoping that this format will allow for students to have more access to the different institutions, as well as fit within their busy school schedule.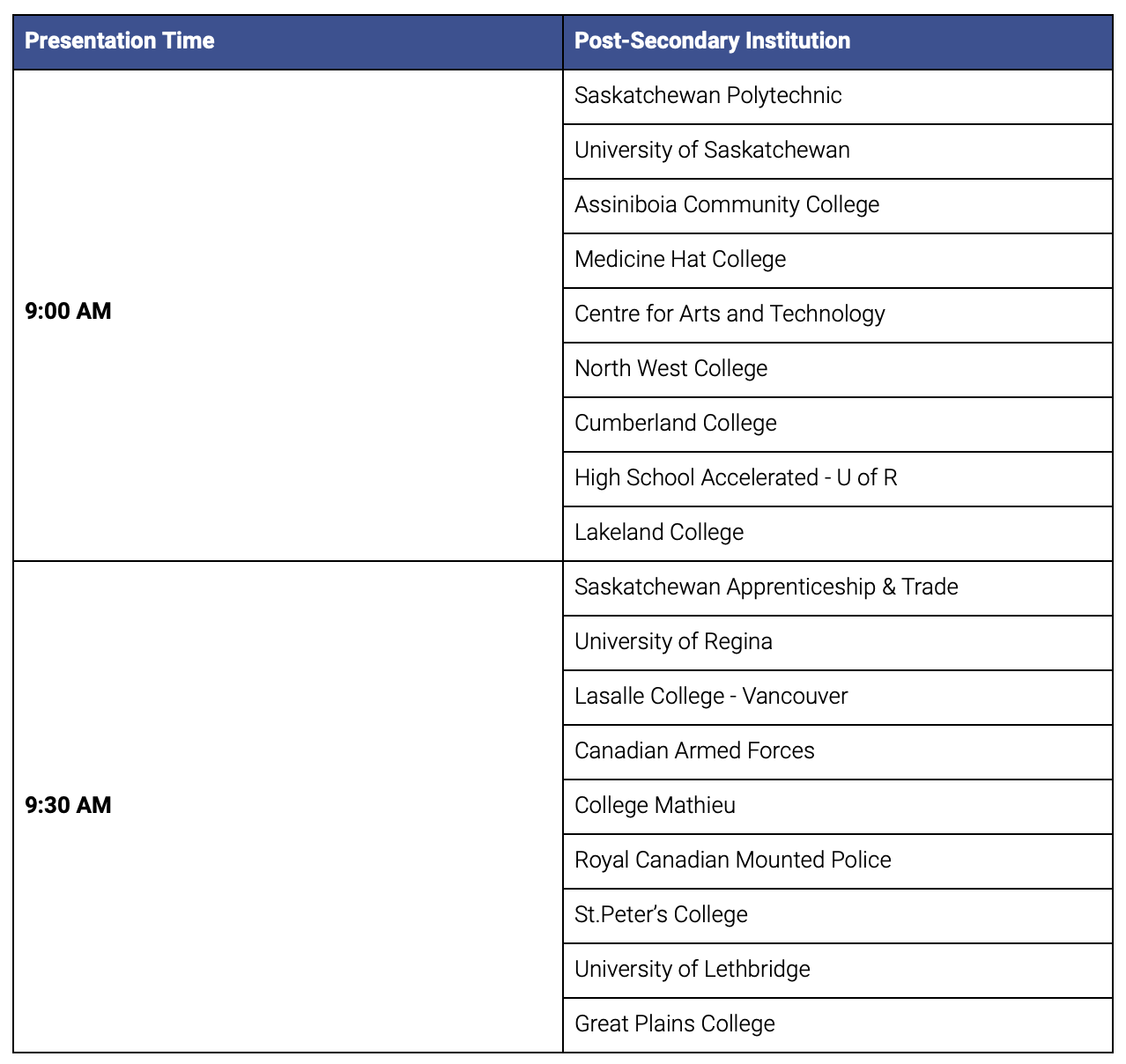 Presentation Length: 30 minutes total (15 minute presentation + 10 minutes for Q&A + 5 minutes to move to next session)

How to Join: Students can attend as a class or individually by visiting the sutil.ca website and clicking on the banner titled "Grade 11 Virtual Career Fair." This will connect them to a Google Doc that lists each presenter and the time they are presenting at (see example above). When they click on their institution of choice from the list, they will then immediately join that institutions' virtual meeting space.