Coronavirus School Updates
August 11th, 2020
Dear RCS Families,
I hope everyone has been well and healthy during the summer break and was able to relax and spend time with family and friends.

I would like to provide an update and some thoughts as we begin to plan for in class instruction as students return this fall.

The COVID pandemic has changed the way we interact with one another and go about our daily lives and this will continue for the foreseeable future. I do believe, however, that we need to cautiously move to normalcy as much as possible. I am supportive of the province's decision to reopen schools and the requirement that all students be engaged in formal education in some manner. We must do all we can to minimize risk and protect those who are especially vulnerable while also recognizing there is much harm done when schools and an economy are shut down.

Over the past weeks I have tried to stay informed of the physical effects of the virus and who is most vulnerable but have also taken note of the effects the lockdown has had on the mental health of families and individuals, particularly students, not to mention the effect on those not receiving proper medical care due to fear of going out or because of hospital restrictions.

Significant increases in depression and even suicide have been noted in populations because of the shut down. While this was necessary the negative collateral effects cannot be taken lightly either and will certainly worsen the longer a lockdown is in place. Many pediatricians have stated that risks associated with children returning to school are not as serious as the negative effects of keeping schools closed. Therefore, they have encouraged governments to reopen schools with the understanding that schools will put in place protocols to minimize the risk of transmission of the virus. I've included a link to the following an article which I found helpful. http://www.sickkids.ca/PDFs/About-SickKids/81407-COVID19-Recommendations-for-School-Reopening-SickKids.pdf

I'm encouraged that many countries in Europe, as well as, Japan have reopened schools and are not reporting that they have experienced a significant increase in the spread of the COVID 19 virus.
As a staff we at RCS established a COVID planning committee prior to the end of June. We met and discussed possible scenarios when students return to classes and how we could minimize the risk of transmission within the school.

Now that the province has provided further guidance we have met again to finalize our plans. Our goal is to release these plans this Friday, August 15th. We will draft protocols and procedures for students, teachers and families while they are in the building and on the property. We are particularly thankful that we chose to add additional teaching staff resulting in very favorable class sizes for the upcoming school year. This has turned out to be very fortuitous under the circumstances.

At this point I can say that plans will include such things as increased sanitizing, particularly in common areas and high touch locations such as bathrooms, hallways, doorknobs, countertops, desks and so on. We will do our best to have students social distance when possible. We will require social distancing of all those entering the building and place protective barriers where needed. We will keep students within their classroom cohort as much as possible. This will likely mean staggered recess times with designated areas for each classroom while on the playground. We will have students practice regular hand washing and or sanitizing throughout the day. The government has now mandated masks to be worn by students in grades 4-12 in common areas.
Having our high school students remain within a specific cohort for the day will be more difficult but there are some possible options we are considering.

If there are students who are immunocompromised or who have family members who are immunocompromised and therefore wish to work primarily off-site, we will work with them and their families to meet their learning needs. We will handle these situations on a case by case basis as they come to us.

Once again, I want to give a shout out and say a huge thank you to our families for their support and patience through this time. You have been a blessing to myself and our staff and we look forward to working with you and your students this fall. To provide a safe learning environment, we will follow all requirements as outlined by the department of health and will go above and beyond when practical.

While our enemy seeks to sew fear in our hearts and uses whatever he can to bring that about we know that God has not given us a spirit of fear. 2 Timothy1:7.

"For I am the Lord, your God, who takes hold of your right hand and says to you, do not fear; I will help you. Do not be afraid, for I myself will help you,' declares the Lord, your Redeemer, the Holy One of Israel." Isaiah 41:13-14.

Blessings,
Rod Rilling
Principal
Regina Christian School
_________________________________________________________
july 3rd, 2020
Dear RCS Families,
It has been over four months since schools in Saskatchewan were placed on hold due to COVID -19. Who would have predicted that we would have a year like this? Not only has the world had to deal with a pandemic but protests, accompanied by violence, have also shaken the foundation of western nations.
Again we are reminded that our security is not in government, personal wealth, employment, or good health. It is clear these things can disappear in the blink of an eye. Whatever happens, however, we know God is still on His throne directing the affairs of the world. Isaiah 14:24.
This school year has been difficult for many families and students. Students being away from friends and missing school highlights has been disappointing. I especially want to acknowledge our grade 12 graduates who were unable to have traditional graduation celebrations. Our grade 8 students also missed out on the formal transition to high school. These are important milestones. I hope we were able to provide meaningful experiences that will hold fond memories for our graduates.
The government has announced that in-class learning will resume in fall for Kindergarten to Grade 12.
There are many unknowns but the number one priority will be to provide a safe learning environment for students and staff. We have initiated a COVID planning committee and have begun considering scenarios for fall. Plans could include:
- Adjustments to the school day such as bell times and the timing of lunch and recess breaks
- Modifications to instructional practices
- Increased sanitizing and hygiene practices
We expect to receive further direction in August which we will make everyone aware of. Also, no decisions have been made regarding extra-curricular activities for the next school year thus far.
I wish to thank all of the staff for their hard work and dedication in changing direction on a dime with the move to online learning. We have a wonderful, servant hearted staff and I feel blessed to work with each one.
Again I want to say how thankful I am for our RCS families. You had to step up overnight and become an educator, IT professional, and supervisor while juggling all of your other duties. You are amazing. God honors faithfulness and you have certainly been faithful.
I wish everyone good health and a restful and happy summer!
In Christ,
Rod Rilling
Principal
_________________________________________________________
June 15th, 2020 Update

Dear Parent(s)/Caregiver(s),

As the end of the 2019-2020 school year draws near, teachers are busy preparing student progress reports to be shared at the end of June. Parents and students may be wondering how moving to the Supplemental Learning Plan for the last portion of the school year might impact student progress reports.
What is the purpose of a student progress report?
The purpose of a student progress report is to provide a snapshot summary of a student's advancement toward achievement of curriculum outcomes. Teachers carefully collect and analyze evidence of student learning from multiple sources, such as observations, conversations, and student products. This evidence is then used to inform what appears on the student progress report.
How will June 2020 progress reports look in light of the move to Supplemental Learning?
Moving to the Supplemental Learning Plan has not only altered the amount of curriculum content being covered, it has made gathering student evidence of learning more complicated. Teachers have done their best to provide quality instruction at a distance and to assess student learning. The June 2020 student progress reports are teachers' best attempts to share as much information regarding student progress, given the unique conditions under which teaching and learning has occurred during term 2.
Depending on a child's grade level and programming, typical progress reports might include overall outcome grades, overall subject grades, anecdotal comments, continuum reports, and rubric scores. There will be no re-design of these progress report components to coincide with the Supplemental Learning Plan. However, June 2020 progress reports could be missing information on these reports because a teacher may feel they do not have enough evidence to properly inform a judgment of student achievement in an area_ Please do not be alarmed to see blanks reported on any component of the student progress reports. Also, be aware that some of the evidence used to inform progress reports was collected through face-to-face instruction while other evidence was collected through varying levels of participation in supplemental learning.
What should I do if the June 2020 progress reports results in my wanting more information about my child's achievement?
Year-end progress reports are not the only opportunity to be informed regarding student achievement. Teachers collect and share assessment information on an on-going basis and have continued to do so through within the Supplemental Learning Plan by using Seesaw, Google, email, or phone calls to parents. In June, all parents will have an opportunity to speak directly with their child's teacher regarding progress and what appears on the student progress report. This will also be a valuable opportunity to learn what steps could be taken at home over the summer months in order to prepare for the upcoming school year, like continuing to read every day with your child, for example.

What will happen to students next year if they have not yet achieved an outcome from their current's grade level curriculum?
Each student progresses toward achievement of curriculum outcomes at a unique rate. Teachers are highly skilled in using assessment techniques to measure where a student is at. They then plan instruction in order to move the student toward mastery through a variety of learning opportunities. When students return to learning in September, regardless of which instructional model will be used at that time (face-to-face or remote learning), teachers will continue to use assessment in this way, as they have in the past. Additionally, the Student Achievement Team at the Regina Public Schools is already planning how to best support teachers in ascertaining student performance in key areas such as reading, writing, and mathematics.
Sincerely,
Greg Enion
Director of Education
_________________________________________________________
May 15th, 2020 Update
Dear RCS Families,

We are now halfway through May and well into our new 'normal' of educating students. I would once again like to thank you for your continued support and faithfulness to RCS.
The staff and I are very appreciative of the co-operation, encouragement and team spirit you have shown. I'm also very thankful for our teachers and support staff. They are doing a great job of keeping things running smoothly and supporting families and students.
Having students at home while juggling work and or household responsibilities, will be challenging for most families. As a parent I know my tendency would be to try to be on top of everything and make sure my child was doing all that was planned and assigned. Remember, however, that in some situations that just may not be possible due to family circumstances.
I'm hearing that some parents/guardians are feeling somewhat discouraged and stressed. I understand but please do not be be too hard on yourselves. It's okay. Do what you can and do not allow the learning to become a major point of stress for you, or between you and your child.
We know there will be students requiring support to catch up when they return to regular classroom instruction. We are planning for that and will find ways to provide the needed help. Whatever you can cover during this time is a bonus. So, continue to do what you can comfortably manage. We are in this together and we will work together to get everyone on track when we have the students back in school.
We would love to hear from you. Please take some time to complete a short survey by clicking on the link below.
https://docs.google.com/forms/d/1ZrGPcKosiaveBymBWL5VwSXVuQWAMb_xx2KyWGYpUr0/edit
Please do your best to find time to relax, recharge and enjoy the weather with your family during this long weekend.
Blessings,

Rod RillingPrincipalRegina Christian School

Therefore do not worry about tomorrow, tomorrow will worry about itself. Each day has enough trouble of its own." Matthew 6:34
_________________________________________________________
May 14th, 2020 update
Hello Parents/Guardians,

We are now several weeks into implementing the online supplemental learning plan for students. We know that this has been a learning, adjusting and sometimes challenging process for all as we have had to adjust to this new way of learning for your children. We thank you for your willingness, desire and cooperation to work along side the RCS staff. We would like to offer additional support in the way of student supplies should you be needing to replenish what was sent home or would like us to replace what has been purchased. Everyday classroom items such as pencils, erasers, paper, etc. If you are needing some items, please email the Reception Office at office@myrcs.org by 11:00 a.m. on Thursday parent pick up days and we will put together a package for you to pick up between 12:00-4:30.
We trust you and your family will enjoy this "different" but warm and sunny long weekend!
Blessings,
Shauna Flaman
Operations Manager
_________________________________________________________
april 20th, 2020 update
Hello Parents & Guardians,

In order to support your students learning from home, we have come up with a pick up system for you to get the materials your children may need from the school. (i.e. textbooks, assignments from teachers) Teachers will advise you or your child if they have items to be picked up.
Once again this Thursday, April 23rd will be the pick up day. We have adjusted the hours to be from 12:00 pm to 4:30 pm. Once here at the school, you can call into the office at 306-775-0919, press 0 to speak to Reception, say your name and what student/s, grades, you are picking up for. We will then set the items out on the front step for pick up. Please keep appropriate distances between people and wait at your car until your package is on the front steps. Packages will be clearly labelled.
Thank you,
Shauna Flaman
Operations Manager
Regina Christian School
_________________________________________________________
April 9th, 2020 UPDate
Dear RCS Families,

Once again, thank you for your faithfulness and support as we transition to an online learning model. While this would not be our first choice, and there have been challenges, we are starting to feel more comfortable and a regular routine is beginning to take shape between teachers and students.

I'm sure for many families this has been somewhat overwhelming. Let me assure you we want to do all we can to help and to alleviate stress. This is an unprecedented situation. Don't put extra pressure on yourself or your child by feeling everything must be done perfectly. We are all learning. Please let your child's teacher or teachers know if you are struggling or your child is struggling and we will do what we can to help.
We will be treating Easter break as we would in a normal school year. While teachers may provide some assignments students can be working on, they will not be teaching, posting assignments or contacting students during the break. We encourage all of our families to use this time as an opportunity to regroup, be with family, friends and loved ones while still maintaining social distancing as required.

I would like to wish all our families a Happy Easter on behalf of myself and the staff of RCS. He is risen!

While Easter will be very different this year in terms of attending church or getting together with loved ones the truth of Easter is the same. Christ is risen! He has overcome the world and is the rock of our salvation. There is nothing that has over taken us or can happen that will ever change that. We may feel uncertain and even somewhat frightened at times but we can trust in His promises.

Our "God is an ever present help in times of trouble." Psalm 46:1

"The name of the Lord is a strong tower, the righteous run into it and is safe." Proverbs 18:10
Happy Easter! He is risen indeed!!

Rod Rilling
Principal,
Regina Christian School
_________________________________________________________
april 7th, 2020 update:
Dear parents and guardians,

We are now into our first scheduled week of working with students as we navigate to offsite learning.
We've decided to use Zoom as our online learning platform as we move forward with supplemental learning for our students. Some of you may be familiar with this meeting app already.
An explanation of why we chose the Zoom platform, how we will be using it and answers to some anticipated questions you might have is is included below. Please take a few minutes to read through it.
If you have additional questions feel free to contact me or Mrs. Munson.
I want to thank all our students and families for their understanding and patience as we work together to make this new learning model a success. Please know everyone is working diligently to provide the best experience possible for our students.
Sincerely,
Rod Rilling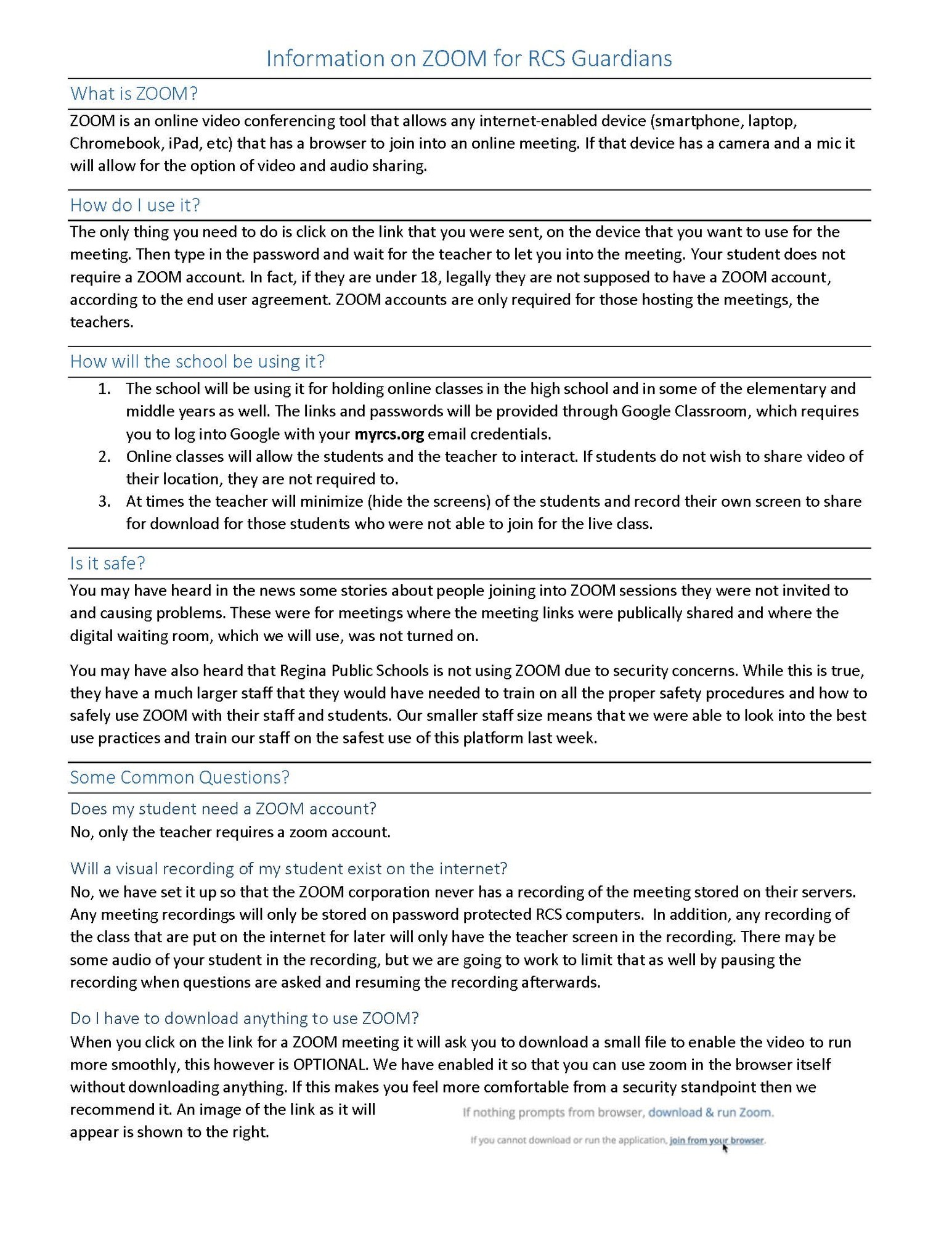 _________________________________________________________
april 1st, 2020 update
Hello RCS Family!

Please check out the RCS Facebook page, Instagram page and the school website under "RCS Community", "Chapel at Home" for Mr. Tim Thiessen's newest episode of Chapel at Home. He will try and post a new episode every Wednesday. We trust you will be encouraged!
Blessings


Shauna Flaman
Operations Manager
Regina Christian School
_________________________________________________________
march 30th, 2020 update
Dear RCS Parents,

Over the next few days, your child(ren)'s homeroom teachers will be contacting you by phone to discuss you and your child's educational plans for the rest of the semester. As such, we wanted to provide you in advance the options the Ministry of Education and Regina Christian School are able to offer to complete this school year amidst the current situation. Should you have questions regarding these options, please do not hesitate to contact us. We recognize that this is an unprecedented time in your child's education. There are, and continue to be, many questions as to how students will continue their education in the coming weeks and months. With an eye to the future, both to schooling and future employment, we strongly suggest that all students participate in the supplemental distance learning activities that will be provided by their classroom teachers. As of March 16 when schools were closed, high school students had only covered about 1/3 of the course content and skills development for the semester and the elementary just over 1/2 the year's content. Although teaching and learning will look differently going forward, it is important for students to continue to learn so that they are prepared for either their next school year or for their future post-secondary goals.

For High School Students:

Going forth, high school students and their parents/guardians will be able to choose from three options FOR EACH COURSE regarding further learning/assessment:

Option 1) Engage in Supplemental Learning Activities-- With this option, students will engage with their teachers in on-going learning experiences through on-line platforms such as Zoom Meetings and Google Classroom. Teachers will be teaching course content and assigning activities that support the curriculum and skill development. For many high school courses, concepts and skills build and this continued interaction allows for students to not miss out on vital information and skill development. Students are asked to commit to engaging in the supplemental learning for the duration of the semester. Although students can choose to not complete assignments if they engage in supplemental learning activities with no penalty, we do strongly encourage students to at least attempt each assignment to focus on skill development.

Regarding assessment with this option:

* Any assessment that is completed during on-line learning will only be applied to the student's grade if it is over his/her grade as of March 13, 2020. New assignments cannot lower the grade, but will be able to boost the grade.
* Students can choose to not complete an assignment(s) with no penalty to their grade.

Option 2) Improve Mark-- With this option, a student can work to improve his/her mark (as of March 13, 2020). A student can complete missing assignments, as agreed to by the subject teacher, on material covered prior to March 13.

Regarding assessment with this option:

* Upon completion of missing assignments/tests/quizzes, the student's mark is again frozen upon improvement.

Option 3) Mark (as of March 13, 2020) Remains Frozen-- With this option, the student's mark in a course, as of March 13, 2020, will remain as is. Those students who have marks of 1%-49% will be bumped up to a 50%. Marks over 50% will be accepted as is. Students with a zero in a course would be required to complete at least one assignment to receive a course mark of 50%. If this option is chosen, no improvement work or supplementary learning activities will be completed.

Regarding assessment with this option:

* Mark remains the same as of March 13.

For Elementary Students:

Going forth, elementary students and their parents/guardians will be able to choose from two options FOR EACH COURSE regarding further learning/assessment:

Option 1) Engage in Supplemental Learning Activities - With this option, students will engage with their teachers in on-going learning experiences through on-line platforms such as SeeSaw, Zoom Meetings and Google Classroom. Teachers will be offering live and video lessons of course content and assigning activities that support the curriculum and skill development. For core subjects like math, science, social and ELA concepts and skills build and this continued interaction allows for students to not miss out on vital information and skill development. Students may choose to engage in supplemental learning activities for all of their subjects, or may choose to pursue further learning in only a few. Students are asked to comit to engaging in the supplemental learning for the duration of the school year. Though we believe all assignments provided are valuable, we recognize each home's needs and schedules will vary. As such, there is no penalty for work not completed based on the home's decision.

Regarding Assessment with this option:

Marks will reflect new learning on the June report card as completed during the supplemental learning time. All assessment that improves marks will be included in the final mark; any assessment lower than the March 13th date will be exempted from the final mark.

Option 2) Mark as of March 13, 2020 Remains Frozen -- With this option, the student's mark in a subject as of March 13, 2020 will remain as is. If chosen, no supplementary learning activities will be completed.

Your child(ren)'s homeroom, teachers will be in contact to discuss these options. Our staff are committed to ensuring a positive educational experience for your children. We continue to be in prayer for our families as we adjust to this new environment.

Sincerely,

Rod Rilling and Krista Munson
_________________________________________________________
MARCH 20TH, 2020 UPDATE

_________________________________________________________
March 19th, 2020 Update
Dear Parents/Guardians:
Teachers received some clarifications and updates from the Education Response Team earlier today. This team is comprised of the representatives from the Ministry of Education, The Saskatchewan School Boards Association, the Saskatchewan Teacher's Federation and several other education partners within the province.
I felt it important to provide some of this information to you as it clarifies and updates the messaging you have already received. If you hear things that are contrary to these key messages and they have not come from RCS or directly from the government through reliable media sources, they are quite likely not accurate. We will be sending out updates and posting them to the RCS website as we receive them.
Please see the key points below:
The Premier and Minister of Education have indicated that students will progress, and that those students who are eligible to graduate will do so.
The parameters and a framework for education delivery and grading is yet to be established but work is underway.
We expect that teachers will have opportunities to continue learning activities after March 27. There will still be opportunities for students to progress on the mark they have at this time. We are not closing off the school year at this time.
Further direction will be coming from school divisions in term of plans for next steps in the context of the COVID-19 response. Updates will be provided and also posted on the RCS website.
While the suspension of classes has been deemed to be indefinite, it is not known what timeframe will be involved as this will depend on decision made by Saskatchewan's Chief Medical Health Officer.
I want to thank all our families for the support they have given myself and the RCS staff during this time. It's been so much appreciated. While this is certainly not pleasant, it brings us to the realization that no matter how much planning we do there are always things that are out of our control. Times, such as these, help us to keep things in perspective and realize that God is our ever present help in times of trouble.
God is our refuge and strength, always ready to help in times of trouble. So we will not fear when earthquakes come and the mountains crumble into the sea. Psalms 46:1
May you all feel God's peace and presence as you spend time with your children over the next week.
Blessings,
Rod Rilling
Principal
Regina Christian School
_________________________________________________________
March 16th, 2020 Update
Good Afternoon Parents & Guardians,

As you are aware classes will be suspended indefinitely as of Friday March 20th. For the period of March 16th to March 19th, pre K to grade 12 classes will wind down. Parents who are able to keep their children home should do so.
We will receive more information in the next 24 hours as to what the coming days will look like and will continue to pass this along as we receive it. Please click on the link below for the Government of Saskatchewan's press release today.
https://www.saskatchewan.ca/government/news-and-media/2020/march/16/class-suspensions

Rod Rilling, Principal
Regina Christian School
_________________________________________________________